Building a pool and maintaining it requires valuable funds which are NOT only translated into financial expenses but ultimately demand the most valuable resource of all: TIME! Many hours are devoted to maintaining the pool and ensuring a safe, healthy and clean swimming environment for family and friends.
A salt chlorinator (sometimes called a salt chlorine generator) is a sanitation device installed after the filter, on the pipe-line towards the pool. Through a process called electrolysis it applies exceptionally low electric voltage to convert low concentration of salt in the pool to active chlorine that destroys organic matters in the water. Once the water is disinfected, the active chlorine reverts back to salt and the cycle beings again. The salt chlorinator is responsible for the clean, sanitized pool water and the exceptional swimming experience.
Amongst the many advantages of the salt chlorine generator is its safety. There is no risk of chlorine over dose or dealing with dangerous substances! In terms of cost effectiveness, the use of a chlorinator significantly reduces the expenses of chemicals to treat the pool while eliminating the common side effects associated with them such as itchy skin and red burning eyes.
The benefits of using Magen eco-Energy's natural salt systems for in-ground pools
Magen's natural salt water chlorinators are the safest, most economical, natural and environment friendly disinfection systems for swimming pools. Magen's salt water chlorinators convert natural salt into "free chlorine" that destroys algae and bacteria, creating crystal clear water and sparkling clean swimming pool at all times.
Magen eco-Energy has over 15 years of experience manufacturing salt water chlorinators of various models. All of these devices put an end to red eyes, itchy dry skin and sharp chlorine odors. They eliminate the need to use hazardous granular chlorine or liquid chlorine and simply do the same sanitation process by a more natural, safer and healthier method.
Help us assist you in creating a healthier, safer pool environment by sanitizing your private swimming pool with a salt chlorinator and creating the worry free luxury sanctuary you dreamed of.
Natural
Uses salt or minerals to sanitize the water
Continuous
On-going pool sanitation
Safe
Eliminates handling and transportation of hazardous chemicals
Convenient
No more manual pool balancing
Nontoxic
No risk of contamination or chemical overdose
Cost effective
Reduces expenses on pool chemicals and pool service
 Choose one of our robust, low maintenance salt water chlorinators systems for your pool today
Benefits
Most suitable for
D
Benefits
Maximum accuracy of chlorine production
Automatic salinity readings and out of range alerts
Totally sealed and splash proof
Ready for future add-ons and upgrade options
Most suitable for
Moderate pool users
Pool owners looking for future upgrades and add-ons
Clients searching for cutting pool service and maintenance costs
D+
Benefits
Fully automatic sanitizing system
Online monitoring and control of water balance
Ensures better water quality and reduces chemicals usage
No manual pool maintenance
Most suitable for
"Heavy" pool users
Peace of mind seekers
Savvy shoppers
E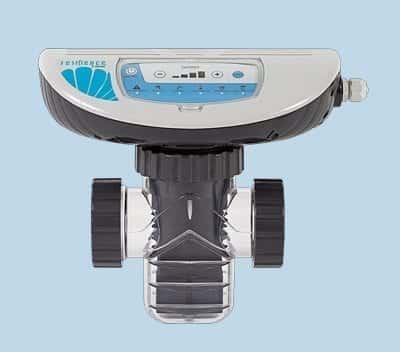 Benefits
Easy to install (even for the novice)
Intuitive and simple operation
Flexible for various installation options
Most suitable for
Replacements of existing unit
Retrofit installation
"Value for money" oriented customers
G
Benefits
Full control from close range and remotely through a unique application.
Flexible connectivity via LAN/Bluetooth/WiFi.
Waterproof and resistant to humidity and splashes.
Convenient display for mobile or computer users
Most suitable for
Pool owners who want to know what's happening in the pool at any given moment, even remotely.
Pool owners interested in future upgrades
G+
Benefits
All the benefits of G, and more.
Control and monitoring of pH and ORP values.
Intuitive operation and maintenance.
Real-time alerts on water conditions
Most suitable for
Pool owners interested in a professional and advanced device.
Pool operators and service companies who want to receive up-to-date status images